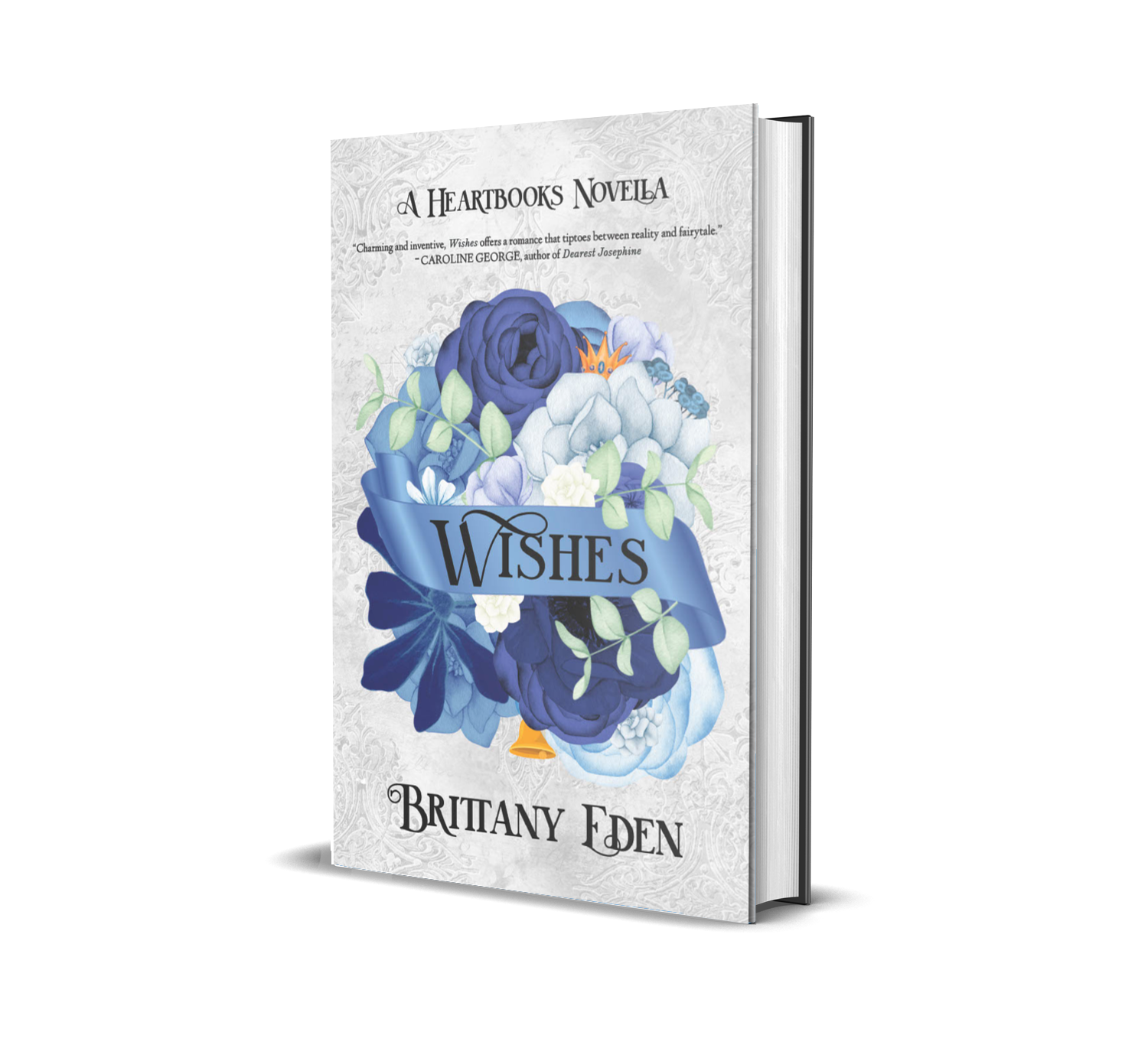 Wishes: A Heartbooks Novella
"Charming and inventive, Wishes offers a romance that tiptoes between reality and fairytale. A smart, heartfelt retelling perfect for fans of Kiera Cass and Melanie Dickerson!" —CAROLINE GEORGE, author of Dearest Josephine
The Heartbooks series of vintage-inspired, modern fairytales begins with a Christmas Royal Romance in Wishes, a heartfelt and lush Cinderella story. With swoony dialogue and poignant moments, the story takes you to the quaint and nostalgic European-styled town of Loirehall, through the elegant palace and grand ballroom in Château Fleur, and dwells deep on themes of grief and loss, faith and hope, and most of all true love.
Netflix's The Princess Switch meets The Crown in this modern fairytale that transforms the classic stories of Cinderella and Pinocchio into a lush, wintery mystery for fans of Stephanie Garber's Once Upon a Broken Heart, and Disney's live action Cinderella.
---
AVAILABLE NOW!
EBOOK ON AMAZON or PAPERBACK or HARDBACK! KOBO HERE! BARNES & NOBLE ALL FORMATS | HOUSE OF JAMES (LOCAL BOOKSTORE) HERE!
AUDIOBOOK | Narrated by Jane Maree
KOBO (Canada) | KOBO/WALMART (USA) | B&N (Nook) | Libro.fm | BingeBooks | Google Play | Spotify
SONG BY LANDON YOUNG | Listen here!
---
ENDORSEMENTS
"Charming and inventive, Wishes offers a romance that tiptoes between reality and fairytale. A smart, heartfelt retelling perfect for fans of Kiera Cass and Melanie Dickerson!" —CAROLINE GEORGE, author of Dearest Josephine
"Fans of Nadine Brandes, C.J. Redwine and Sara Ella need look no further than Brittany Eden for their next ultimately poetic and utterly immersive read. True magic! Eden writes with one of the most naturally talented voices I have read in years!" —RACHEL MCMILLAN, author of The Mozart Code and The Castle Keepers
"Enchanting and unique, Eden's prose in Wishes is a paintbrush, creating a masterpiece depicting grief and sorrow and how love can overcome them in time. By carefully combining two beloved fairytales—Cinderella and Pinocchio—Eden has written a beautiful novella that will capture the hearts of readers, young and old." —V. ROMAS BURTON, award-winning author of the Heartmaker Trilogy and Fortified
"Wishes is a beautiful glimpse into the fairytale world Eden is creating with her Heartbooks series. It is filled with such poetic prose and wonderful little hints of the familiar stories from which it drew inspiration. I believe fans of The Selection Series and all things Cinderella will find this an absolutely lovely story of romance, royal intrigue, and overcoming loss." —TABITHA CAPLINGER, author of The Wolf Queen
"Wishes—this book had my heart from beginning to end. The writing as beautiful as poetry and as stirring as a timeless classic, I couldn't not fall in love with this beautifully moving story. I adored this book and absolutely cannot wait for future releases by the author. It's five glowing stars from me." —CAITLIN MILLER, author of The Memories We Painted and Our Yellow Tape Letters: A WWII Novel
---
FROM THE BACK COVER
On the eve of the Coronation, aspiring newspaper columnist Penelope Beaumont is assigned the story of a lifetime—revealing that the Crown Prince isn't the rightful heir to Loirehall's throne.
Desperate to leave her dysfunctional step-family and tempted by the chance to claim her late father's former column in The Loirehall Times like she's always wished, Penelope accepts the job.
But a fateful encounter with Crown Prince Nicholas Garcon brings their shared history into question. Together they uncover darker secrets about the Royal Family and the Yorkson Tragedy—the event that claimed the lives of their parents.
Will the connection between Nicholas and Penelope be strong enough to overcome the story between them, or will lies and rumors upend the long-awaited Coronation Ball this Winter Solstice and change the future of the Royal Family forever?
---
LINKS AND NEWS
Check out my Wishes Pinterest here! | Lorehaven review here! | YouTube review by H. A. Pruitt here! | Author Spotlight Interview here!
---
THE SERIES CONTINUES
Lyrical and poignant, Wishes has all the swoony vibes you could ask for—it released November 2, 2022 from Quill & Flame Publishing House and is a standalone, companion novella that is a prequel to Hearts!
Author of A Dress for the Wicked and the forthcoming Before the Devil Knows You're Here Autumn Krause has this to say about Hearts— "A creative, fascinating debut for fans of whimsy and wonder."
Vintage and dreamily romantic, Hearts is a nod to the classics Alice in Wonderland, Peter Pan, and Sleeping Beauty where our heroine Elizabeth Rhodes is a secretive pencil artist with a dynastic feud destined to end on her cursed birthday. Perfect if you're looking for poetic prose, and a Jane Austen-esque tribute to tea parties, art, and secrets. Read it now!
---